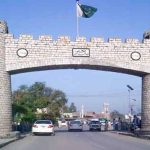 MIRPUR: Prime Minister Azad Jammu & Kashmir Raja Farooq Haider Khan accused India of using chemical weapons in Indian Occupied Jammu & Kashmir.
"There are evidences that Indian forces deployed in Kashmir had been using weapons that contain chemical agents in Kashmir," Prime Minister said during his visit to the office of All Parties Hurriyat Conference (AJK Chapter) on Wednesday.
"We demand an impartial and independent investigation into the alleged use of chemical weapons against civilians in Indian-held Jammu Kashmir and gross violation of human rights of Kashmiri people by Indian forces," Haider said.
Paying glowing tributes to Yaseen Malik, Syed Ali Shah Geelani, Shabir Ahamed Shah and others, he said pro leaders of Kashmir had lived most of their lives behind the bars and in struggle for their right to self determination.
Terming Kashmiri peoples' struggle as struggle to complete Pakistan, he said India cannot lessen Kashmiri peoples' love for Pakistan with coercion and oppression.
He alleged that use of chemical weapons is worst kind of persecution that put the lives of entire population in danger.
The AJK Prime Minister assured the Hurriyat leadership that reinforcing Kashmir liberation struggle would remain first and priority of AJK government and all available resources would be utilized for this purpose.
The government in the base camp of Kashmir liberation struggle would consult Hurriyat leaders in matters relating to Kashmir freedom movement.
PM Haider also assured that problems being faced by the refugees from occupied Kashmir would be solved on priority basis.
Earlier in a TV interview after visiting Line of Control, PM Haider said Indian PM Narendra Modi is trying to increase his vote bank by shedding the blood of Kashmiri people.
He alleged BJP of Nerandra Modi of whipping up jingoistic frenzy to get political mileage in India.