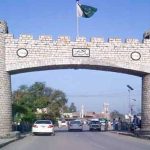 LAHORE: A nine-member delegation of Indian Indus Water Commission arrived in Lahore on Tuesday through Wagah border crossing to hold talks with Pakistani officials over water disputes.
The delegation, headed by Indian Water Commissioner Pradeep Kumar Saxena, will discuss the Indus Waters Treaty (also known as the Sindh Taas Agreement) among other issues over the next two days.
The Pakistani delegation will be headed by Pakistan Commissioner for Indus Waters Syed Meher Ali Shah.
Pakistan believes that India has violated the Indus Waters Treaty by starting construction of reservoirs.
Islamabad has raised objections to Indian water projects on Chenab River.