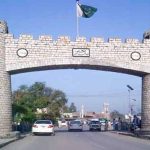 SRINAGAR: Indian occupied forces on Friday martyred two more youth in Bandipura district of the Occupied Kashmir, reported Kashmir Media Service.
The troops martyred two Kashmiris including a 12-year-old boy, Atif Ahmed Mir, during continued cordon and search operation in Mir Mohalla area of Hajin town in Bandipora district.
Meanwhile, cellular and internet services have been suspended in Bandipura district and its adjoining areas.
On the other hand, thousands of people attended the funeral prayers of a martyred youth, Aamir Rasool Kaboo, in Sopore, today. Aamir was killed along with another youth by the troops at Kalantra in Baramulla, last night.
Complete shutdown is being observed in Sopore town and its adjoining areas against the killing of the youth.
Indian troops had martyred 27 innocent Kashmiris including during the last month of February.
According to the data issued by the Research Section of Kashmir Media Service, the killings rendered one woman widowed and two children orphaned.
As many as 184 people were injured due to the firing of bullets, pellets and teargas shells by Indian troops and police personnel against peaceful protesters while 681 civilians including Hurriyat leaders and activists were detained in February.