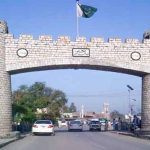 NEW YORK: Indian Prime Minister (PM) Narendra Modi's arrival in New York for United Nations (UN) General Assembly's address was marked by intense protests by the Sikh and Gujrat's Patel community. The protestors chanted slogans against the Indian PM.
According to the details, protesters included a large number of men, women and children who held signs and banners inscribed with lines against the Indian PM. Modi's current visit to the US will not be less than a nightmare due to the protests. The Indian PM has also been blamed for the brutality against Muslims and the people of Kashmir.
Director Khalistar Affair Dr. Amirjeet Singh declared Modi a killer of Sikhs and Muslims. He stated that if Khlaistan's census was not done by the Indian PM then they will do it themselves.
Preparations for protests against Modi in the UK are also underway. Kashmiris living in the UK have announced an "Anti-Modi March" on the day of Modi's arrival in the UK on the 13th of November in which Pakistanis and Sikhs are expected to participate in large numbers.