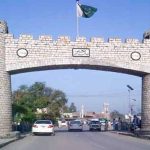 NEW DELHI: Indian Punjab Chief Minister Parkash Singh Badal called off on Tuesday a meeting with Pakistan High Commissioner Abdul Basit a day after a gun battle in Gurdaspur left 10 people dead.
The meeting between Badal and Basit was to be held on July 29 in Chandigarh.
Harcharan Bains, adviser to chief minister on national affairs and media, said that the meeting was called off "in view of today's incident at Dinanagar in Gurdaspur district".
Further, Bains said it was Basit who had requested for a courtesy call during his visit to Chandigarh this week.
On Monday, gunmen dressed in military fatigues killed at least 10 people, including three civilians, in India's Punjab state before being shot dead in a 12-hour-long gunfight with security forces in a small-town police station near the border with Pakistan.
In what was the first such attack in the state in more than a decade, the assailants shot dead a roadside vendor and tried to hijack a bus before storming the police station, witnesses said.
Security sources in India claimed the attackers were suspected to belong to either Lashkar-e-Taiba or Jaish-e-Mohammad. "None of them were Sikhs," one unnamed Indian security official said.
Indian police sources also claimed that the attackers entered from Pakistan two days ago. Some media reports suggested that they might have crossed into Punjab from Indian Kashmir.
However, Pakistan has strongly condemned the attack.
"We condemn in the strongest terms the terrorist incident in Gurdaspur, India, in which a number of precious lives have been lost. There are reports of others having suffered injuries. Our thoughts are with the bereaved families," the foreign office said in a statement.
Following the incident, India tightened security on its border with Pakistan.