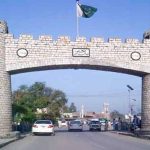 ISLAMABAD: Chairman Joint Chiefs of Staff Committee (CJCSC) General Zubair Mehmood Hayat has said that Pakistan was not oblivious to its defense.
Addressing a two day conference in Islamabad on Tuesday, he said India was stoking chaos and anarchy in the region.
He said Indian intelligence agency RAW had established a special cell at a cost of 500 million dollars to sabotage the China Pakistan Economic Corridor (CPEC).
The General said India was also fanning terrorism in Balochistan and added that the neighboring country was playing with fire.
Hayat maintained that India was fighting clandestine war and warned that it could turn into a big war anytime.
The Chairman Joint Chiefs of Staff Committee said that Pakistan would maintain minimum nuclear deterrence in the context of current regional situation.
He added resolution of long standing Kashmir dispute was vital for durable peace in the region saying but India was shedding blood in the valley on one hand and on the other, she was depriving Pakistan of its waters.
Hayat said that the safe havens of terrorists in Afghanistan were the core reason of the security problem in the entire region.