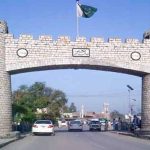 ISLAMABAD: The Ministry of Interior on Tuesday put the name of former SSP Malir Rao Anwar on the Exit Control List (ECL) in compliance with the Supreme Court's order.
Earlier in the day, Chief Justice of Pakistan Mian Saqib Nisar, who headed a three-judge bench, directed the authorities to place SSP Anwar's name on the ECL.
The apex court's direction came on the heels of the beleaguered police officer's bid to flee the country to avoid a probe into the alleged extrajudicial murder of Naqeebullah.
The chief justice issued a notice to Anwar to turn up before the court on January 27.
He directed the Inspector General of Sindh Police and head of a three-member committee formed to probe the death of Naqeebullah to appear before it on next hearing at the apex court's Karachi registry.
The Federal Investigation Agency (FIA) on Tuesday morning stopped SSP Anwar, who is facing a probe into the killing of 27-year-old youth from South Waziristan in a fake encounter, from leaving the country.
Anwar was to board a Dubai-bound flight at the Benazir International Airport, Islamabad but was barred by FIA officials from fleeing the country.
On January 20, Inspector General of Police Sindh Allah Dino Khowaja suspended him from his post on the recommendations of the inquiry team tasked to investigate the killing of Naqeebullah Mehsud.
On January 13, Rao Anwar had claimed to have shot dead four members of the defunct Tehreek-e-Taliban Pakistan (TTP) in an encounter near Shah Latif Town in Karachi.
Family members of one of the killed terror suspects, Naqeebullah Mehsud, claimed that he was killed in a fake encounter, triggering widespread public outrage.