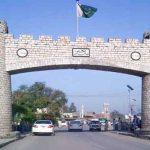 ISLAMABAD: The Ministry of Interior has said that there is no question to remove Cyril Almeida's name from Exit Control List (ECL), while journalist Cyril had booked a flight to Dubai right after inquiry announced against him, on which his name was added in ECL.
According to Interior Ministry sources, Cyril's name will not be omitted from ECL until completion of inquiry over his controversial press report, while unjustified speculations must be avoided.
It was also stated by Interior Ministry that anyone relating with that inquiry, if tried to go to abroad, his or her name will be added in ECL. According to sources, inquiry will take next two to three days to complete.
It must be pertinent to mention that Cyril's report regarding discussion during civil and military leadership was rejected by Prime Minister House several times and two days earlier Cyril's name was added in ECL.
Meanwhile Prime Minister House denied issuing any directive to put travel restrictions on journalist Cyril Almeida. "No statement has been issued by the Prime Minister House regarding Cyril Almeida," a statement by the spokesman said.
The spokesman further said that no directive was issued by the PM House to place Cyril Almeida's name on Exit-Control List (ECL) or lift travel restrictions.
Dawn staffer Cyril Almeida tweeted that government was planning to take further uglier actions against him after barring him from traveling to Dubai on a long-planned trip. Some media reports suggest that Interior Ministry has decided to take Almeida's name off the ECL.
The travel ban was imposed on Almedia following his controversial story which claimed that there was a rift between civilian governemnt and military over crack down on specific militant groups.
Prime Minister House and Chief Minister Shehbaz Sharif called the report as fabricated and half-truth. Dawn newspaper, on the other hand, has condemned the ban, saying it fully stands by the reporter and his story.