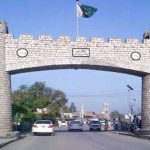 RAWALPINDI: Iran's Foreign Minister Javad Zarif called on Chief of Army Staff (COAS) General Qamar Javed Bajwa here in General Headquarters (GHQ) Rawalpindi.
According to a statement issued by the Inter-Services Public Relations (ISPR) on Tuesday; regional security situation and Pak-Iran relations were discussed in the meeting.
Speaking with the visiting dignitary, COAS said that law and order in the region depended upon the cooperation of Western Asian countries.
General Bajwa added that cooperation with one another was needed to prevent crimes in the region.
For his part, Iran's Foreign Minister appreciated efforts of the two sides regarding border security and management.