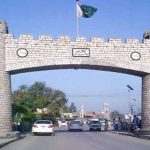 WANA: A brigadier ranked officer of Inter Services Intelligence (ISI) last night embraced martyrdom during an operation in South Waziristan.
The Military media wing,  Inter Services Public Relations (ISPR), in a statement said that during an encounter with the hard core terrorists in general area Angoor Adda, South Waziristan, intense fire was exchanged.
While leading the encounter from the front, Brigadier Mustafa Kamal Barki from Inter Services Intelligence (ISI) embraced Shahadat while seven members got injured. Among injured two were critically wounded.
Brigadier Barki and his team put up a valiant resistance against the terrorists during the encounter and the officer sacrificed his life for the peace of the motherland.
The Defence Forces of Pakistan and Intelligence Agencies pledge to reaffirm and demonstrate firm resolve to eliminate the menace of terrorism from every inch of the country.