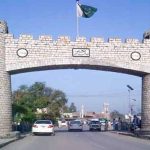 ISLAMABAD: Pakistan Peoples Party (PPP) chairman Bilawal Bhutto Zardari has said that the opposition's show of power had clearly conveyed to Prime Minister Imran Khan and his government that their time was up.
While Azadi March rally in Islamabad, Bilawal said that this is a selected government and its policies have proven that public welfare has never been a consideration for them. The people of Pakistan have never and will never accept this government.
The PPP leader criticised the government's economic performance and said the masses had been burdened more than at any point in Pakistan's history.
Bilawal said the country's economy was dependent on outside influences and cited the "PTI-IMF budget" as an example.
Questioning the legitimacy of the present democratic set-up, Bilawal said the people of Pakistan were in favour of the constitutional and democratic systems of the past.
The PPP leader also lashed out at the alleged media blackout of the Azadi March and vowed that his party would support all democratic efforts for the removal of the "puppet prime minister".
The protest is the first concerted opposition challenge that PM Imran Khan has faced since he won a general election last year promising to end corruption and create jobs for the poor.
The opposition says the government is illegitimate and is being propped up by the military, which has ruled Pakistan for about half of its history and sets security and foreign policy. The military denies meddling in politics.