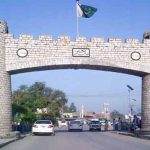 LODHRAN: The son of Pakistan Tehreek-e-Insaf (PTI) leader Jahangir Tareen, Ali Tareen has on Thursday submitted nomination papers to contest the by-poll on Lodhran's NA-154 constituency.
Jahangir, formerly the PTI's general secretary, lost his seat earlier this month when he was disqualified by the Supreme Court for not being 'honest' and 'truthful' as per Article 62 (1) (f) of the Constitution.
Ali, a foreign-educated businessman, entrepreneur and social worker based in Lahore and Lodhran, posted on Twitter today that becoming an MNA was never part of his plan but he made the decision following the "request" of the people of Lodhran.
Jahangir had made the announcement of his son's nomination on Wednesday during a rally in Lodhran.
According to the by-election schedule announced by the Election Commission of Pakistan, Thursday (today) is the last day of filing nomination papers while a final list of candidates would be displayed on December 29.
The scrutiny of papers would be completed by January 5, 2018 while polling would be held on February 12.