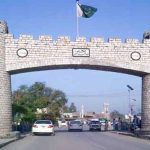 ISLAMABAD: Jameel Ahmad has been appointed as the Deputy Governor of State Bank Pakistan, said a notification issued by the federal government on Thursday.
According to the notification of the Finance Ministry, Jameel Ahmad has been declared as In-charge of the Deputy Governor's post of the State Bank.
Jameel Ahmad will perform his duties as deputy governor for a period of three years.
Previously, Jameel Ahmad had been associated with various sectors of the State Bank which included operations department, banking policy and regulation department and development finance.