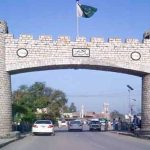 KABUL: National Security Advisor Lt. General (Retd) Nasir Khan Janjua called on Afghanistan's Chief Executive Abdullah Abdullah in Kabul.
According to media reports, they exchanged views on inter-state negotiations for the improvement of Pak-Afghan relations.
Nasir Janjua and Abdullah Abdullah also discussed Afghan peace process in the meeting.
Furthermore, both the dignitaries agreed that Taliban should accept the new peace talks' offer.
It is worth noting that on Saturday, Nasir Khan Janjua arrived in Kabul on two-day official visit where he also met with Afghan President Ashraf Ghani.
Following the meetin, Ghani in his social media message invited Prime Minister Shahid Khaqan Abbasi to pay visit to Kabul.