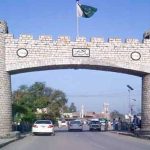 ISLAMABAD: The 7th meeting of Joint Cooperation Committee on China Pakistan Economic Corridor started in Islamabad on Monday.
As a kick start before the actual commencement of the JCC, meeting of the Senior Officials was jointly chaired by the secretary planning Mr. Shoaib Siddiqui and his Chinese counterpart. The SOM was attended by the senior government officials, members of the Joint Working Groups (JWG) on Ling Term Plan, Energy, Infrastructure , Gawadar, Industrial Cooperation and Security from China and Pakistan, Secretary to the Prime Minister Mr. Fawad Hassan Fawad, federal secretaries of the line ministries, chairman Gawadar Development Authority, Chairman Gawadar Port Authority and representatives of the provincial governments.
Welcoming the Chinese delegates, secretary planning Shoaib Siddiuiee stated that successful execution of the ongoing projects by now shows strong commitment and resolve of both China and Pakistan to execute every single project under the CPEC framework in letter and spirit. China and Pakistan are time tested and all weather friends since decades. The friendship was further transformed into iron brotherhood and economic partnership while both signed the CPEC framework which took this friendship to the new heights. He maintained that CPEC was a project of shared destiny and framework offering equal opportunities to the people of China and Pakistan.
The secretary planning maintained that Pakistani people as a nation and the government of Pakistan envisages great value to the commitment of Chinese leadership and the people for bringing huge investment of USD46 billion which encouraged the global investors to take Pakistan as their investment destination. Government and the people of Pakistan are committed to complete the this mega project through firm determination, coordinated efforts between the government functionaries and the line ministries.
The secretary planning said that the pace of work and fast track execution of the projects was quite satisfactory since most of the projects underway were following the timelines agreed between the Chinese and Pakistani side. He hoped that keeping in view the progress of projects in the energy, infrastructure sectors and Gawadar, the completion of early harvest projects would be in time and on par with the international standards. Gwadar is the most important element of CPEC which guarantees regional prosperity and well being of the natives in particular.
Shoaib Siddiqui said that economic corridor was entering into the next phase of industrial cooperation which would make Pakistan a manufacturing hub and epicentre for connectivity in the region. The secretary planning expressed his satisfaction on the performance of Joint Working Groups who were putting into sincere efforts in a diligent way.
Meanwhile, briefing on the second session of meeting, spokesman of ministry of Planing Asim Khan said that joint working groups on Long Term Plan, Industrial Cooperation, Gwadar, Transport Infrastructure, energy and security were meeting to review the progress and finalise proposals in their respective areas. These proposals would be tabled in the Joint Cooperation Committee (JCC) on 21 November for final acceptance and formal approval to make those part of the CPEC framework.