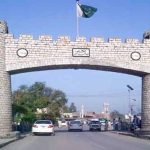 ISLAMABAD: Senior journalist Matiullah Jan was reportedly abducted from Islamabad's Sector G-6 on Tuesday, according to his family.
Matiullah Jan's wife said that his car was found parked outside a school in Sector G-6 of the capital with one of his mobile phones inside the vehicle.
As the news drew attention of journalists and international rights bodies, a tweet was posted on Matiullah Jan's account at 3:17pm — purportedly by his son — which read: "Matiullahjan, my father, has been abducted from the heart of the capital [Islamabad]. I demand he be found and the agencies behind it immediately be held responsible. God keep him safe."
Some time later, CCTV footages purportedly showing his alleged abduction surfaced on social media, which showed several armed men exiting at least three vehicles. The footages were shared by several journalists on social media, however, police have yet to comment on their veracity.
Meanwhile, officials from the Aabpara Police Station reached the site and said they were trying to acquire the CCTV footage. SHO Shaukat Mehmood said that the journalist's wife has not yet filed an application to lodge a report on his disappearance.
Soon after, the chairperson of the Senate Functional Committee on Human Rights, PPP's Mustafa Nawaz Khokhar, tweeted that the Islamabad inspector general of police had been summoned to brief the committee with regards to Jan's abduction.
Jan had tweeted a video of a journalist's interview earlier in the day. "This is for the attention of those who sit in the simulated air conditioned environment of rule of law in Pakistan and who think criticism on them is a bigger crime than the violation of the inviolable dignity of a human being," he wrote on Twitter at 11:05am this morning.
He was due to appear in the Supreme Court this week after it took suo motu notice of an alleged contemptuous tweet by the journalist.
Five hashtags regarding Jan's disappearance are currently trending on Twitter in Pakistan.
The Human Rights Commission of Pakistan demanded that the government "immediately ensure the safe recovery" of the journalist.
Amnesty International South Asia also called for authorities to "establish [Jan's] whereabouts immediately".
In a tweet, the international human rights organisation said it was "extremely concerned for the fate and wellbeing" of the journalist, who it said has been the subject of "physical attacks and harassment for his journalism".