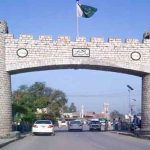 ISLAMABAD: A local court Wednesday handed over Mian Tariq Mahmood, a man allegedly involved in the accountability court judge Arshad Malik video scandal, to Federal Investigation Agency's Cyber Crime Wing on two-day physical remand.
The FIA has claimed to have arrested Mian Tariq for his alleged role in recording a video of the accountability court judge in Multan, as alleged by Arshad Malik in his affidavit submitted in Islamabad High Court.
The FIA presented the accused before a civil judge and requested for his physical remand. The court approved his two day physical remand.
According to reports, Mian Tariq accused the FIA of torturing him during the custody.
According to Judge Malik's affidavit Tariq had been the one to show him a "secretly recorded manipulated immoral video that was shot while the judge was serving in Multan.