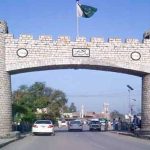 QUETTA: The provincial government on Thursday formed a judicial commission to probe the Quetta Civil Hospital suicide attack which targeted members of the judicial fraternity.
According to a notification issued, the judicial commission would comprise of a senior judge of the Balochistan High Court (BHC).
The commission has been instructed to submit its report to the government with in two months.
The judicial commission would record the statements of all eye witnesses including lawyers, hospital staff and personnel of law enforcement agencies with regard to the incident.
An application was also filed in the BHC regarding the Quetta carnage.
The court admitted the application for hearing and issued notices to the concerned quarters.
The application states that the civil hospital bombing was the result of poor security and negligence of the administration.
On August 8, a suicide bomber targeted the emergency services ward at Quetta's Civil Hospital, killing at least 74 people and leaving scores injured.
Tehreek-i-Taliban Pakistan (TTP) splinter group, Jamaat-ul-Ahrar (JuA), had claimed responsibility for the bombing which occurred at the gates of the building housing the emergency ward.