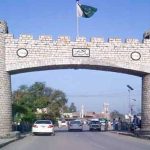 PESHAWAR: Chief Minister Khyber Pakhtunkhwa Pervez Khattak on Friday said that the lynching incident at Abdul Wali Khan University in Mardan is condemnable and the provincial government would conduct judicial inquiry into the incident.
Mashal Khan, who was enrolled at Abdul Wali Khan University's Mass Communication department, was lynched by an enraged mob over blasphemy allegations at campus premises on Thursday.
Pervez Khattak speaking to the media at the Khyber Pakhtunkhwa Assembly said that a citizen cannot take the law into their own hands, adding that this is a sensitive and important matter.
Pervez Khattak said investigations have been launched into killing of a journalism student, Mashal Khan, in Mardan university.
Police has registered two separate cases against 20 suspects and arrested eight suspects over the incident.
The Khyber Pakhtunkhwa police have arrested several suspected people involved in the lynching of a student and registered a case.
Investigations have been kick-started into the lynching of Mashal Khan, a student of Mass Communication department of Abdul Wali Khan University in Mardan.
The university has been closed after the lynching incident. Administration has dispatched the initial report to governor KP.
The initial report prepared by KP police revealed that three students, not one, were tortured in the incident; however, the extreme mob torture claimed life of Mashal Khan.
According to police sources, injured Abdullah is in police custody; however, the wounded Zubair is unaccounted for.
The police said both the friends of Mashal Khan are in stable condition.
The report said Mashal Khan was killed after proper planning, as students organized a meeting in the run up to the lynching and mapped out the details to torture Mashal.
No evidences regarding blasphemy by the deceased have so far been found, the report mentioned.
FIR filed against the lynching names 20 people including three university employees. Three police teams have been formed to make more arrests of people involved in the lynching.
DPO Mardan Mian Saeed said eight out of 20 named accused have been arrested and they have been identified with the help of videos.
The FIR was lodged at Sheikh Maltoon Town (SMT) Police Station under clauses of anti-terrorism, murder and murder attempt.