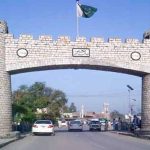 PESHAWAR: Former member of provincial assembly (MPA) and Jamiat Ulema-e-Islam-F's (JUI-F) leader Mufti Kifayatullah was released from Haripur jail on Friday.
The Peshawar High Court (PHC) granted bail to the JUI-F leader. A division bench of the PHC's Mansehra circuit ordered the authorities to release the cleric who was detained in Haripur Jail.
The verdict was given on a bail petition submitted prior by JUIF demanding the release of their political leader. JUI-F leader Mufti Kifayatullah's arrest was challenged in the court of law on October 29.
On Sunday, Mufti Kifayatullah was arrested from Islamabad. Deputy Secretary Information JUI-F Aslam Ghouri confirmed the arrest of said Mufti Kifayatullah. He stated that Kifayatullah was taken into custody from Islamabad's Sector E-11 last night.
Kifayatullah was arrested under 3-MPO by Mansehra police. He was third leader of the JUI-F to have been detained from Islamabad in the past few days ahead of Azadi March.
The Mansehra deputy commissioner issued a notice in which it said he has ordered the arrest of Kifayatullah under Section 3 of the Maintenance of Public Order Ordinance. According to the deputy commissioner, Kifayatullah was arrested because he was collecting chanda, holding corner meetings and inciting the public to take part in the Azadi March.
He is acting in a manner prejudicial to public order, safety and tranquility
He posed a constant threat to the law and order, which may disturb the peaceful atmosphere of the district
He is indulging in activities to defuse the writ of the government, thus posing a threat to public peace/law and order in the district, thus creating hatred in the masses.