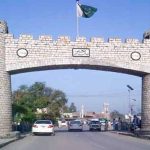 PESHAWAR: Jamiat Ulama-e-Islam-Fazl (JUI-F) Chief Maulana Fazlur Rehman on Tuesday said that his party is not against merger of FATA into Khyber Pakhtunkhwa.
Talking to a delegation of his party leaders and workers in Peshawar, he said JUI-F will accept every decision, accepted to the majority of the tribesmen.
Maulana Fazlur Rehman called for early implementation of FATA reforms package.
He said that all political entities should be taken on board regarding FATA problems.