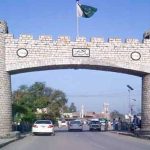 ISLAMABAD: Jamiat Ulema-e-Islam-Fazl (JUI-F) chief Maulana Fazlur Rehman said that his party won't support the amendment in the Army Act.
Addressing a press conference in Islamabad on Friday, he said that he doesn't want to make the institutions controversial, adding that the amendment in the Army Act is a matter of the parliament.
The JUI-F chief said that the Supreme Court of Pakistan had ordered to remove weakness in terms of extension of Army Chief's tenure but more flaws were being created.
"We will not allow a fake assembly to pass such legislation," he said and added his party will not become part of the legislation process for passing the Army Act Amendment Bill.
Fazl went on to say that the Pakistan Muslim League-Nawaz (PML-N) and the Pakistan Peoples' Party (PPP) extended support for the bill but the JUI-F condemns the move. He said both parties should have taken other political parties into confidence over the matter before reaching a decision.
"Taking part in voting will be equal to supporting the fake assembly," he added.
He said in order to carry out such legislation there should be a conducive and democratic environment. He pointed out that the army chief s service extension matter should not be politicized keeping in view the dignity of the state institution.