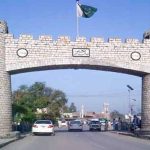 ISLAMABAD: The Chief Justice of Pakistan (CJP) Justice Mian Saqib Nisar on Monday while hearing a suo motu notice of Islamabad High Court's (IHC) judge Justice Shaukat Aziz Siddiqi's remarks about Inter-Services Intelligence (ISI) has said that justice would be dispensed to the IHC's judge.
During the proceedings, the record and the transcript of Justice Siddiqui was also submitted to the SC bench.
Meanwhile, a press release issued by the Supreme Court has said, "The allegations leveled in the speech cast aspersions and malign the superior judiciary of the country and berate its independence".
The CJP also asked the chief justice of IHC to comment upon the veracity of allegations leveled by Justice Siddiqui and asked him to obtain material from Justice Shaukat Aziz Siddiqui to substantiate the allegations.
The material and the comments of the honourbale Chief Justice would also be transmitted to the Office of the Chief Justice of Pakistan for consideration and appropriate action, if necessary, the press release said.
The CJP also asserted that no conspiracies had been hatched against the country adding that no harm would come to the country as long as the judiciary is powerful.