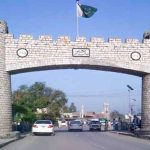 QUETTA: Justice Tahira Safdar has been appointed the first female Chief Justice of Balochistan High Court (BHC).
Chief Justice of Pakistan (CJP), Justice Mian Saqib Nisar announced the appointment of Tahira Safdar on Monday.
Tahira Safdar will replace the outgoing provincial chief justice Mohammad Noor Muskanzai who will retire on August 31.
Safdar was member of the three-judge panel hearing treason charges against former President Gen. Retd Pervez Musharraf.