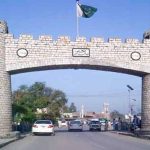 PESHAWAR: Justice Waqar Ahmad Seth on Thursday took oath as Chief justice (CJ) of Peshawar High Court (PHC) in a ceremony held here at Governor House.
Governor Khyber Pakhtunkhwa, Iqbal Zafar Jhagra administered oath to the CJ PHC. Senior lawyers, elected representatives of Peshawar High Court Bar Association and judges of PHC attended the oath taking ceremony.
Justice Waqar Ahmad Seth obtained L.L.B degree from Khyber Law College Peshawar in 1985. Initially, he was enrolled as an advocate of district courts in December 1985 and in 1990 enrolled as an advocate of High Court.
He was appointed as an advocate of Supreme Court of Pakistan in 2008 and was elevated to the bench in August 2011 as additional judge.
He also worked as Banking Judge, Company Judge, PHC and served as Member of Subordinate Judiciary Service Tribunal Peshawar.