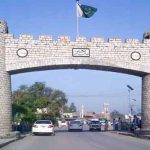 LAHORE: Pakistan People's Party (PPP) leader Qamar Zaman Kaira claimed on Friday that deposed PM Nawaz Sharif had been winning elections with the assistance of "agencies".
"Nawaz Sharif has always robbed PPP of its mandate ," he told reporters outside Bilawal House, Lahore.
Kaira maintained that Sharif arbitrarily ran his government and also formed personal ties with institutions.
"Nawaz Sharif was insisting that everything was going fine and well until he was in power. Now that he has been disqualified, he's saying that democracy and the system in the country is about to collapse," the PPP leader remarked.
Kaira criticised Sharif for not appearing before the National Accountability Bureau (NAB) earlier in the day despite being summoned.
"Sharif claims that he did not receive a notice from NAB, next he will say that he's sick and then he'll come up with some other excuse," he added.
Kaira also criticised the former PM for his "harsh criticism" of the judiciary following the latter's disqualification by the top court.
To a query about the PPP supporting Sharif in the wake of his ouster, Kaira said his party would not talk to an individual.
"We will talk on a party-to-party basis if we do," he added.
The PPP leader said democracy in Pakistan faced no threat and his party was busy preparing for the next elections.