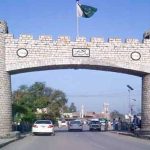 LAHORE: Lahore Police on Sunday booked leaders of Tehreek-e-Labbaik Pakistan (TLP) including party's chief Khadim Hussain Rizvi and senior leader Afzal Qadri on charges of sabotaging peace and rioting in the wake of Supreme Court of Pakistan's (SC) verdict acquitting Asia Bibi in blasphemy case.
As per details garnered, Lahore Police lodged as many as 11 cases against the top leadership and 500 other unknown miscreants.
Likewise, 34 first investigation reports (FIRs) have been lodged in Faisalabad, 12 in Kasur district, two in Islamabad on charges of treason, inflammatory speeches, violence and vandalism.
The law enforcement agencies (LEAs) have also decided countrywide crackdown against hooligans involved in wanton violence. Pictures and videos in this regard are being collected.
Taking strong exception to wanton violence by hooligans in the recent sit-ins and protest rallies, Prime Minister [PM] Imran Khan on Sunday has taken notice of the situation and directed Punjab Chief Minister (CM) Usman Buzdar and federal ministers to initiate stern legal action against all those involved in pillage and destruction of public and private properties.
As per details garnered, PM Khan directed officials concerned to not spare miscreants involved in sabotaging peace and normalcy.
Expressing exasperation over physical abuse of citizens, Khan ordered to arrest all those involved in violent activities during the course of Tehreek-e-Labbaik Pakistan's (TLP) sit-ins.
Legal action would also be taken by Cyber Wing of Federal Investigation Agency and Pakistan Telecommunication Authority against all those involved in spreading inflammatory content through digital platforms.