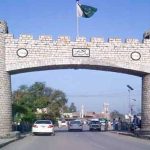 ISLAMABAD: Interim Prime Minister (PM) designate Shahid Khaqan Abbasi on Monday stated process of uplift projects would commence from right where it was stopped following Nawaz's ouster.
Abbasi vowed to fulfil promises made by former prime minister Nawaz Sharif and informed that party's top brass would make decisions pertaining to new federal cabinet.
"There is no harm if prime minister holds office of foreign minister as well," Abbasi said.
Shahid Khaqan Abbasi on Sunday said opponents were free to file references against him.
Talking to media persons after meeting Jamait Ulema-e-Islam-Fazl (JUI-F) chief Maulana Fazlur Rehman here, he said he had been in politics for the last 30 years and had declared all his assets.
The opponents could file multiple references, but they should avoid mudslinging on baseless grounds, he added.
He said the party had nominated him as a candidate for the office of prime minister and he would approach all the National Assembly members to vote for him.