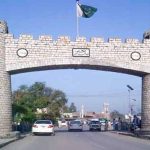 ISLAMABAD: Senior Pakistan Peoples Party (PPP) leader and Opposition Leader in the National Assembly (NA) Khursheed Shah said on Monday that his party has not taken a U-turn on the issue of delimitation of constituencies of the NA.
Speaking to the media, Shah said they have raised questions over the provisional results of the latest population count in Sindh.
He added that the PPP has no issues if the next general elections are held on the basis of the 1998 census results.
However, the elections should be held on time, he said further.
Shah also explained that the PPP does not support the call for early elections in the country.
Talking about former prime minister Nawaz Sharif, Shah said Nawaz knows who his enemy is, adding that, Nawaz's close associates are conspiring against him.
The Pakistan Tehreek-e-Insaf (PTI) has been advocating early elections in the country.
Moreover, the Parliament is yet to pass a bill which will fulfil legal requirements for holding elections next year in light of the latest census.
The PTI and PPP, among other parties, want the delimitations bill to be discussed in the Council of Common Interests before it is made into law.
Political parties have yet to pass legislation on the delimitation of constituencies, deemed a constitutional necessity by the Election Commission of Pakistan, with regards to the holding of general elections next year.