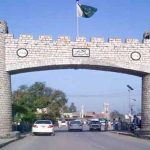 PESHAWAR: Security forces on Tuesday released Khyber News correspondent from Khyber Agency, Khalil Jibran Afridi who was arrested for investigation into the bomb recovered from his car planted by unknown miscreants.
Khalil Jibran along with four other colleagues were on coverage of a car rally from Khyber till Karachi when Khasadar forces personnel pointed out an Improvise Explosive Devise (IED), planted under his car. They stopped and disembarked the vehicle. Later the magnetic IED was defused by personnel of Khyber Rifles, a wing of Frontier Corps. However, later all on board, along with the employees of Landi Kotal Press Club and the motor mechanics were summoned by high-ups of security forces.
The Tribal Union of Journalists (TUJ) Fata and Khyber Union of Journalists on Monday jointly staged demonstration to protest the arrest of a tribal journalist and an employee of the Landikotal Press Club.
They demanded the release of journalist Khalil Jibran and Landikotal Press Club employee Hassan Ali who were arrested by the Frontier Corps (FC) on November 24.
On November 24, the FC arrested local reporter Khalil Jibran along with four other Landikotal-based journalists, including Imran Khattak, Farhad Shinwari, Hazrat Umar Khan Shinwari and Mehrab Khan Afridi after FC personnel spotted a bomb planted to Khalil Jibran's car.