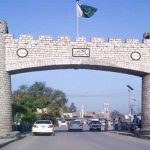 PESHAWAR: The Khyber Pakhtunkhwa government will present its annual budget for the year 2020-21 on June 19 amid the coronavirus pandemic that has caused huge damage to Pakistan's already volatile economy.
The budget will be presented by Finance Minister Taimur Saleem Khan Jhagra. The budget session will be limited to June 28 owing to coronavirus concerns.
The standard operating procedures (SOPs) for all the members of the KP Assembly have been issued for participation in the budget session. All the members will be tested one week ahead of the session and social distancing will be ensured in the Assembly to avoid the spread of coronavirus. All the members have been directed to wear facemasks and the entry of guests into the Assembly building has also been banned.
Minister for Labour Shaukat Yousafzai while briefing the media about the meeting between the government and opposition members said that the talks between the two committees were fruitful and it was agreed that the SOPs will be followed in letter and spirit to ensure safety of all members. He said the steps have been taken to ensure smooth session of the KP Assembly without any hindrance.
During the meeting, both sides also discussed the issues relating to distribution of funds. The government members listened to the objections raised by the opposition members and sought time for response. Two sessions were held between the government and opposition members.
Meanwhile, Finance Minister Taimur Saleem Jhagra said the government is going for a deficit budget as COVID-19 has at least Rs100 billion shortfall has happened in revenue collection. The shortfall includes Rs60 billion federal transfers, Rs30 billion net hydel profit payments and Rs10 billion in province's own resources.
He said at a pre-budget briefing that development financing may also be impacted due to coronavirus pandemic. He said that despite a difficult situation, the KP government has decided not to impose any new taxes in the next budget, while the issue of the duplication of certain taxes will also be addressed.
Mr Jhagra said the coming budget will be the most challenging in the post-pandemic scenario. He said the people must expect a unique budget this year as the pandemic has triggered a global recession.