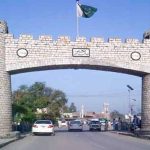 PESHAWAR: Khyber Pakhtunkhwa Finance Minister Taimur Khan Jhagra has said that this time, the provincial budget will be in deficit but no new tax will be imposed on the public.
Addressing a press conference in Peshawar along with Information Adviser Ajmal Wazir, he said that the province has suffered a loss of Rs 100 billion this year but despite this, every effort is being made to provide relief to the people. He said that this time the budget will be targeted towards the health sector.
He said that the budget for the next financial year of Khyber Pakhtunkhwa would be presented on June 19 and all members attending the meeting will be tested for coronavirus a week in advance.
Speaking on the occasion, Provincial Information Adviser Ajmal Wazir said that the people of Khyber Pakhtunkhwa have fought hard against every hardship that has come before and appealed to them that precaution is the only cure for coronavirus.
He also said that the issue of wheat and flour has been raised in the National Coordinating Committee (NCC). In the current situation, strict action is being taken against those who stockpile petrol and create artificial shortages. Under the new ordinance, raids will be carried out without a warrant, he added.