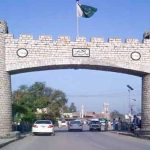 PESHAWAR: Khyber Pakhtunkhwa Apex Committee Friday reviewed the security arrangements for bye-election in tribal districts.
The committee meeting was held at the governor's house with governor Shah Farman in the chair. The meeting was attended by Chief Minister Mehmood Khan, corps commander Peshawar Lt Gen Shaheen Mazhar Mehmood, IG police Dr Mohammad Naeem, chief secretary Saleem Khan, home secretary and other civil and military officials.
The meeting briefed about security arrangements for the bye-election in tribal districts. The meeting was informed that 34490 security personnel including army, police, levies, Khasadar force and FC would be deployed for the security of 1897 polling stations in tribal districts. At least 2.8 million registered voters would use their right to vote during election.
The governor said that peaceful and transparent election was the top priority of the government. He said that for the first time, elections were being held for provincial assembly in tribal districts.