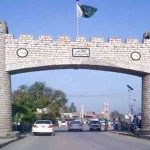 PESHAWAR— Provincial Finance Minister Taimur Saleem Jhagra on Monday presented the Rs1.3 trillion Khyber Pakhtunkhwa- KP budget for next fiscal year, revealing that the government has allocated Rs 418 billion for uplift schemes that makes 33 percent of the total budget.
Out of the 418.2 billion, Rs99 billion have been earmarked for the merged tribal districts uplift schemes while remaining Rs319 billion have been reserved for remaining part of KP.
Apart from this, Rs208.7 billion have been earmarked for grants for the merged tribal areas while Rs212.7 billion have been kept under other receipts.
The government has earmarked Rs275.7 billion for Provincial Annual Development Plan (ADP) while Rs41 billion have been allocated for Devolved ADP.
It also plans to spend Rs8.3 billion under Public Sector Development Program (PSDP) during the fiscal year 2022-23 while Rs93.2 billion have been reserved under the head of Foreign Development Assistance.
It is pertinent to mention here that Khyber Pakhtunkhwa Finance Minister Taimur Saleem Jhagra earlier today had presented provincial budget worth over Rs1332 billion in the provincial assembly out of which Rs418 billion were allocated for uplift schemes.
The KP cabinet has also approved the regularization of 63,000 contractual workers while it has also announced a Shuhda Package for the rescue workers who died during firefighting operations in the forests.
The minister said KP became the hub of international investment during the PTI's nine-year tenure.