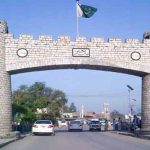 PESHAWAR: The Pakistan Tehrik-e-Insaf (PTI) has emerged victorious from Khyber Pakhtunkhwa on six seats of the provincial assembly in by-elections held on October 14 across the country.
In Khyber Pakhtunkhwa, polling was carried out in PK-3 Swat, Pk-7 Swat, PK-44 Swabi, PK-53 Mardan, PK-61 Nowshera, PK-64 Nowshera, PK-78 Peshawar, PK-97 Dera Ismail Khan and PK-99 Dera Ismail Khan.
Awami National Party (ANP) took two seats as its candidates Waqar Ahmed Khan from PK-7 and Samar Haroon Balour from PK-78 received 13997 and 20916 votes respectively.
On the other hand, Pakistan Muslim League-Nawaz's (PML-N) Sardar Khan got 16859 votes and grabbed the seat from PK-3.
It is to be mentioned here that PTI and PML-N won four National Assembly seats each in the by-election, according to unofficial results.
A total of 370 candidates contested the by-elections on 11 National Assembly seats.
The total registered voters in the country reached the figure of 106,000,239 with 59,243,889 male (55.89 percent) and 46,756,350 female (44.11 percent) voters. 60,697,418 voters were from Punjab, 22,394,212 voters from Sindh, 17,839,845 voters from Khyber Pakhtunkhwa (including FATA), 4,302,304 voters from Balochistan and 766,460 voters from federal capital.
Overseas Pakistanis voted for the first time in the by-polls. The commission said that as many as 7,364 eligible I-voters received their voters' passes for by-election in 35 constituencies.