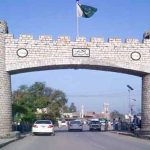 PESHAWAR: The Health Department of Khyber Pakhtunkhwa has chalked out a comprehensive six months action plan for prevention and control of Dengue epidemic in the province.
"The six months period starts from October 2017 to March 2018 and its objective is to control current outbreak and strengthen control measures for prevention of future outbreaks of the disease," said Secretary Health, Muhammad Abid Majeed.
Secretary Health said the plan has been divided into 24 weeks and targets are sets on weekly basis for ensuring its better implementation and monitoring, he added.
Under the plan, Dengue Response Units will also be set up in all the
districts of the province for early reporting of disease and prevention measures. Presently, he said, the DRU is working only in Peshawar district.
In the plan, all line departments including Local Government, Water and Sanitation Service and other are involved in the prevention strategy, Abid Majeed told.
He said only Health department cannot take all measures for controlling dengue as it is the responsibility of several departments to combat the disease outbreak and its reoccurrence.
He said main reason behind occurrence and spread of dengue is poor sanitation, water stagnation, open water tanks etc. This is the responsibility of different government departments to redress this problem and Health department will work over containing of virus through fogging and creating awareness among masses about prevention measures.
"The first objective of the action plan is to institutionalize dengue control through administrative arrangements," said Director Public Health, Dr Shaheen Afridi.
The plan included establishment and operationalization of Provincial Technical Advisory Group for providing technical assistance to Provincial DRU, Dr Shaheen said.
Under the plan, District level Dengue response would be strengthened for collection and compilation of cumulative district data for generation of reports on cases, vector breeding sites and intervention details for onward submission to provincial DRU.
Revision of Provincial IVM (Integrated Vector Management) programme with the agreed and approved structure to meet all technical and managerial needs.
The plan also include advocacy with administrative heads of all line departments for implementation of Dengue prevention through the forum of Provincial Health Committee.
Dr Shaheen said under the plan a province wide passive, active and event based surveillance system would be established with provision of dedicated staff and resources.
Recuriment of 41 entomologists and their posting to required districts is part of dengue prevention action plan.
Surveys would be conducted as part of vector surveillance at larval, pupal and adult stages to determine distribution, population density, major habitats and risk factors to dengue transmission.
The prevention plan also include distribution of ovitraps in affected union councils for adult surveillance and as density reduction tool.
A laboratory would also be established at provincial level for specimen analysis of insects.
The plan also includes strategy for environmental modification for long lasting physical transformation of the vector habitat.
For chemical control of dengue by killing mosquito and larva, the plan recommends procurement of estimated quantities of recommended pesticides and equipment as per specification of WHO.
Enforcement of municipal laws in urban areas to ensure proper disposal of house garbage, used tyres, trash, bin etcs.
For creating awareness among masses, community health workers would be engaged for education of female folk by distribution of dengue prevention brochures. A planned campaign on print and electronic media would also launched for information of general public.