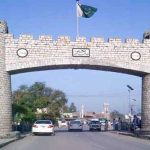 PESHAWAR: Khyber Pakhtunkhwa Chief Minister Mahmood Khan on Friday gave approval for amalgamation of the security forces and Levies with the provincial police.
The recommendation of the merging of forces surfaced as an outcome of a committee meeting headed by Advisor to Chief Minister Khyber Pakhtunkhwa & Spokesperson to the Provincial Government Ajmal Wazeer Khan.
It may be pertinent to mention that approximately 28 thousand officials of Levies and other security forces have been deployed in the tribal areas of Khyber Pakhtunkhwa province.