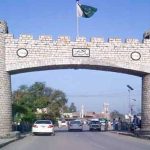 ISLAMABAD: Prime Minister Shehbaz Sharif on Wednesday said that federal government has given Khyber Pakhtunkhwa Rs417 billion in National Finance Commission Awards during the past ten years.
He said that the PTI, which ruled the province for ten years, misused funds allocated for the government of Khyber Pakhtunkhwa to enhance its counter-terrorism capabilities.
He questioned where the "big amount" was used adding everyone in the country is asking the same question.
Without naming anybody, he slammed Pakistan Tehreek-e-Insaf head Imran Khan for his anti-terror stance, questioning who brought terrorists back into the country.
"Who brought them back? How did Pakistan's peace was disrupted again and how did KP come under attack, once again?" he told the cabinet.
"Who said that they [terrorists] are jihadists and that they are friends of Pakistan? Who said that they have surrendered and will participate in the development of Pakistan?"
"No other province received that kind of money except KP. The province has received Rs40 billion annually," he highlighted. The PM added that he is stating facts only and not levelling accusations.
PM Shehbaz said that even after that, the KP government laments that there are weaknesses in their Counter Terrorism Department (CTD) and that they have no equipment.
The PM warned of terrorism spreading in other areas of Pakistan once again if "appropriate steps are not taken". However, he assured that the government will control terrorism with "collective efforts".