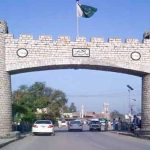 PESHAWAR: Governor Khyber Pakhtunkhwa, Shah Farman has said all matters in the province are being addressed thorough consultations.
Addressing a press conference along with Chief Minister Mahmood Khan in Peshawar today (Tuesday), he denied reports of issuing any order to curtail powers of the Chief Minister and termed it mere rumors. He said that he has no differences with the chief minister.
Shah Farman said Chief Minister is the chief executive of the province and he is backed by all-out support of government machinery. The Governor said working groups have been made in all the departments for efficient functioning.
He said that a committee of parliamentarians from tribal districts has been formed for solution to problems in tribal areas. He said that the committee, headed by chief minister, would comprise senators and MNAs from tribal districts.
He said that the committee would also talks to the leaders of PTM for addressing their grievances.
The chief minister said that he had fruitful talks with the parliamentarians from tribal districts, adding that they knew the problems of their areas.
Ajmal Waziristan, adviser to chief minister, said that the elected members from all political parties would be the members of the committee.