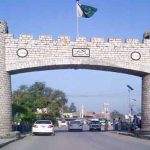 PESHAWAR: Khyber Pakhtunkhwa governor Zafar Iqbal Jhagra has outright refused to resign from his office in defiance of the Pakistan Muslim League-Nawaz (PML-N) leadership's instructions in this regard.
The PML-N leadership had instructed the governors of the provinces installed during its previous term to resign from their positions in the wake of its defeat in the July 25 elections.
Sindh governor Muhammad Zubair, obeying the party's instructions, stepped down from the post last week and blamed the party's poor performance in the polls on alleged rigging.
The PML-N directed Jhagra to resign, but he turned a deaf ear to it after which the party began exerting pressure on him.
The KP governor and the party leadership are said to be at odds over the issue.
The PTI, which is set to form government at the Centre, KP, and Punjab, can remove Mr. Jhagra after assuming power. He has previously served as PML-N secretary general.