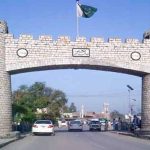 PESHAWAR: The governor of Khyber Pakhtunkhwa Zafar Iqbal Jhagra has directed tax exemption on food items and material used for rehabilitation of TDPs in all agencies of FATA.
A notification was issued by the governor house in which all the officials and departments were directed to ensure there was no collection of any tax on food items or material used for development works for the rehabilitation of temporary displaced persons.
The decision was taken with the aim to provide ease to the tribal people as they have gone through a tough time.
The Locals have applauded the long awaited step and thanked the Governor KP for provision of relief to them.
The government has been taking major steps for improving lives of FATA people since the creation of Pashtun Tahaffuz Movement which has mobilized hundreds of thousands of people from FATA and KP for the protection of their basic human rights, removal of unnecessary security check posts and clearing of landmines planted in tribal areas.