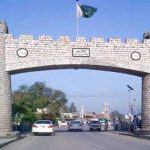 PESHAWAR: Khyber Pakhtunkhwa (KP) Development Working Party has accorded approval to more than Rs2.4 billion for 42 projects in different sectors.
The funds were consented at a meeting of the committee in Peshawar.
The projects are related to health, education, agriculture, energy and power, science and technology, industries, roads and sports sectors.
It is pertinent to mention that recently the performance of KP government has been criticized for its inability to complete the bus rapid transit (BRT) Peshawar project in the specified time.
KP Chief Minister Mahmood Khan on March 23 directed the inspection team for inquiry into delay in construction of the BRT project.
In a statement earlier, Mahmood Khan had said that soft opening for the project would be held on March 23, which could not be materialised. He had warned that next course of action would be taken in case of delay.
CM Khan has directed the provincial inspection team to hold inquiry to determine who was responsible for the delay and present him a comprehensive report on it. He said strict action would be taken against those responsible for this.