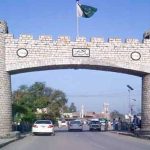 PESHAWAR: The Khyber Pakhtunkhwa Health Department has assured the protesting young doctors to address all their demands within 10 days asking them to immediately call off their protest.
The Health Department has sent a letter to young doctors asking them to send in written a list comprising all of their demands and their possible solutions. After receiving the doctors' demands, a committee would be formed comprising of government officials, members of young doctors association, and members from other unions of doctors, the letter stated.
Meanwhile, the government would also review the protesting doctors' demands to determine whether the demands are implementable or not and to ensure that these demands would not create any hurdle in the way of health reforms, the letter added.
As long as the committee did not come up with a solution to the demands, the young doctors would not stage any protest and would continue serving patients at hospitals.
The Peshawar Young Doctors Association are protesting for the last two months demanding restoration of PGMI, compensation to the doctors, killed in various incidents, security legislation for the doctors, professional health allowance and service structure.