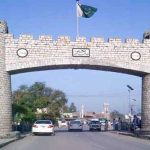 By Arshad Ali
PESHAWAR: The Khyber Pakhtunkhwa finance department has authorised the government departments to release 100 percent of the remaining development funds amounting to over Rs10 billion for priority projects being executed in 13 sectors all over the province.
The 100 per cent releases to priority projects were authorised under the new release policy.
A letter addressed to the secretaries of 13 departments said in pursuance of new and amended release policy approved by the cabinet, the finance department had agreed to release 100 per cent of balance funds amounting to Rs10.5 billion to high impact projects during the current fiscal.
The sectors or departments authorised to release 100 per cent funds included sports, relief, urban development, health, higher education, home and tribal affairs, industries, excise, energy and power, revenue, forestry and municipal services delivery.
This has been the third release under the new policy since Dec 6 when the finance department had released 100 per cent of balance funds amounting to Rs9 billion for three works sector including roads and buildings, irrigation and public health engineer departments. Of the sum, Rs4 billion was released to the communication and works department for roads and buildings sector, Rs3.7 billion to irrigation department and Rs1.1 billion to public health engineering department for drinking water schemes.
On Dec 11, the finance department authorized release of 75 per cent balance funds amounting to Rs20.4 billion for all approved development projects in all sectors.
"Pakhtunkhwa's new development philosophy to manage our finance top-down, and prioritise development above all else is fully in action. Today, we authorised 100 per cent release for spending over Rs70 provincial priority high impact projects across sectors against their annual budget," finance minister Taimur Saleem Jhagra said in a tweet.
Mr Jhagra said those projects were from different sectors and some of the province's flagship investments across urban development, sports, rescue services, industrial development, information technology, education, health, forestry and revenue generation.
He said over past few days, 75 per cent annual funding was available to every approved project in KP development budget and a 100 per cent release for works sectors including irrigation, public health and communication and works, which amounts to well over Rs50 billion.
Mr Jhagra had earlier this week said that the finance department would release 100 per cent of the budgeted allocation for works sector to ensure that every project in the roads, irrigation and public health sectors would have full funding available for the rest of the year.
He said 100 per cent funding would also be released to any project on a provincial high priority list, while in parallel, they would give all remaining departments a 50 per cent release against all approved projects (covering funding for second and third quarters).
Mr Jhagra said the annual development programme would be reviewed in parallel in Dec with a portfolio of projects identified, where allocation was to be increased.