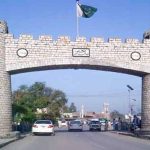 PESHAWAR: Khyber Pakthhunkhwa government on Saturday clarified alleged misuse of its helicopters by PTI chief Imran Khan, stating the government-owned helicopters were never used for his personal or private use.
In an explanatory statement, the PTI-led KP government said Khan accompanying the ministers and advisers used these helicopters for the official tours.
"These helicopters were used on 39 occasions in last four and half years," the provincial government officials said in the statement.
The National Accountability Bureau (NAB) had launched an inquiry into the alleged misuse of KP government-owned copters by Khan earlier this week. An inquiry then ordered against Imran Khan and KP Chief Minister Pervaiz Khattak for misuse of authority and hiring the helicopters at a cheap price.
In the statement, it was said that as the helicopters were never used for private use, hence the question of hiring them at lower rates does not arise.
It was further said that the KP helicopters are maintained and operated by Askari Aviation on fixed monthly charges, irrespective of the usage.
"In cases of usage, fuel charges are paid by the provincial government to the Askari Aviation as billed by the same," the statement added.
Throwing more light on Khan's trips, the statement shared details of 39 official trips, as it was said, the helicopters were used for around 75 flying hours against fuel charges of approximately Rs2.1 million in last four and half years.
The PTI chief participated in different important functions ranging from groundbreaking/inauguration of Billion Tree Tsunami project, the establishment of universities and other projects, said in the explanatory statement.
Moreover, the statement further clarified that Imran Khan did not use the provincial government-owned helicopters for any political gatherings.