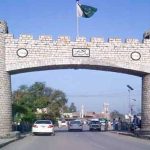 PESHAWAR: The government on Friday has decided to move Supreme Court (SC) against the decision of Peshawar High Court (PHC) that directed Federal Investigation Agency (FIA) to hold BRT project inquiry within 45 days.
According to details, Advocate General has told that the case will be filed in the apex court in coming week.
It is to be mentioned here that detailed decision of PHC stated that the Pakistan Tehreek-e-Insaf (PTI) government launched the BRT project without vision and planning. "Why was the CEO of TransPeshawar removed from his post?" it read.
It further stated that the BRT contract was given to a blacklisted company in Punjab, adding, "What was the need for such a large loan for the project?"
The High Court in its ruling said that attractive salaries were made for staff in PC One. Payment was also made to the Principal Secretary of the chief minister and ACS. Plans for Peshawar residents cause trouble, added verdict.