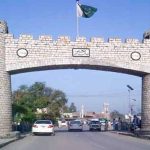 PESHAWAR: The Khyber Pakhtunkhwa government has extended the health emergency for four months. According to a notification of the KP Health Department, the health emergency has been extended till March 31, 2021 keeping in view the situation of coronavirus, Khyber News reported.
In the beginning of this year when coronavirus was spreading rapidly, the Health Department of KP under the Public Health Act 2017 had imposed corona emergency. The secretary of Relief and Rehabilitation had announced emergency situation in the province at that time. Khyber Pakhtunkhwa has recorded 313 more coronavirus cases. Official data shows that total infections in KP have risen to 47,190.
Official data shows that 1,613 recoveries were from corona during the last 24 hours. For the sixth straight day, Pakistan is reporting more than 1,000 recoveries. Total recoveries stand at 341,423.
Peshawar is the most affected district from corona in KP, while it is also included among five cities that are contributing to 70 percent of the country's cases. The National Command and Operation Centre (NCOC) has been informed that Peshawar, Rawalpindi, Islamabad, Lahore and Karachi are contributing 70 percent to the spread of the coronavirus in the country.