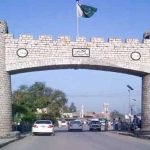 PESHAWAR: Chief Minister Khyber Pakhtunkhwa Pervaiz Khattak Tuesday briefed the federal ministers about electricity crisis in the province and said that the provincial government ready to start operation against power thieves.
The chief minister was chairing a high level meeting regarding electricity loadshedding in the province, which was also attended by federal ministers Khwaja Asif and Shahid Khaqan Abbasi. Chief secretary, Pesco officials and others also attended the meeting.
The chief minister presented demands of the provincial government before the federal ministers. Khwaja Asif said that the provincial government and Pesco should adopt joint strategy for controlling the load-shedding the province. He assured the chief minister that no unscheduled loadshedding would be carried out in the province.
The chief minister said the provincial government was ready to start joint operation with Pesco against power thieves in the province.