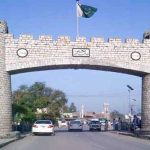 PESHAWAR: The Khyber Pakhtunkhwa government has spent about ten billion rupees on the development projects in the province during the current fiscal year.
This was told at a meeting held in Peshawar today with Chief Minister Mahmood Khan in the chair.
This amount has been spent on development of various sectors including education, health, construction and improvement of roads, urban development and local government.
The meeting was informed that eleven point three billion rupees were recently released for development irrigation, supply of clean drinking water, environment besides others.
Speaking on the occasion, the Chief Minister directed the concerned authorities to ensure hundred percent utilization of funds allocated under current annual development programme.