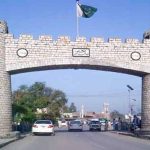 PESHAWAR: Khyber Pakhtunkhwa Chief Minister Mahmood Khan says several mega development projects will be initiated in the upcoming budget to improve socio-economic condition of tribal people.
Presiding over a meeting regarding 2019-20 budget in Peshawar on Monday afternoon, he directed concerned authorities to include different projects of highways, health, education, forestry and infrastructure in the Annual Development Programme.
Mahmood Khan said billion tree tsunami project will be extended to tribal districts besides plantation of trees near canals and urban areas of the province.
The Chief Minister said tube-wells will be converted on solar energy in tribal districts.